Calistoga AVA (American Viticultural Area)
On the afternoon of May 24, 1976 at the InterContinental Hotel in Paris, France, a blind wine tasting occurred the results of which revolutionized the World's perception of California wine. Eleven judges (9 French, one American and one British) were asked to evaluate and score 6 California Chardonnay's versus 4 highly regarded White Burgundy's that included one Grand Cru and three First-growths, wines made from Chardonnay grapes. The 1973 Chateau Montelena Chardonnay was ranked first in the blind tasting, which shocked the French judges. How could a lowly California wine beat out a Grand Cru White Burgundy? And, to make matters worse, a 1973 California Cabernet Sauvignon from Stag's Leap Wine Cellars won the red competition. The French were beside themselves and the wine world was changed forever by these Napa Valley wines, one from the Calistoga AVA and the other from the Stag's Leap District.
Chardonnay Tasting Results from the 1976 Judgement of Paris
Chateau Montelena 1973
Roulot Meursault Charmes 1973
Chalone 1974
Spring Mountain 1973
Joseph Drouhin Beaune Clos des Mouches 1973
Freemark Abbey 1972
Ramonet-Prudhon Bâtard-Montrachet 1973
Domaine Leflaive Pulignt-Montrachet, Les Pucelles 1972
Veedercrest 1972
David Bruce 1973
On Earth Day, April 22, 2017, I had the opportunity to taste some of the wines produced in the Calistoga AVA, which is located at the northern end of Napa Valley, the furthest Napa Valley sub-appellation from San Francisco Bay. Calistoga is a quaint town known for its mud and mineral baths long before wine came to dominate the area. The occasion was the The Grand Tasting of the Calistoga Food and Wine Event organized by the Calistoga Winegrowers and  resort Solage Calistoga.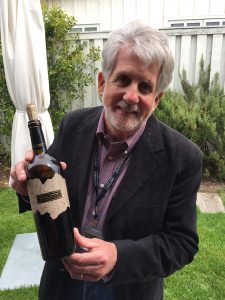 Tom Eddy, President of Calistoga Winegrowers, shows off a bottle from his namesake winery (photo by Al Pandell)
This was a rare opportunity to taste dozens of wines from 40 Calistoga wineries, many of which can only be purchased directly from the vineyard as they are super-small producers of high-end wines. Cabernet Sauvignon is "King" in this neck of the woods, although Chardonnay and Sauvignon Blanc are also produced. Although Calistoga is at the "Top of the Valley," these owners and winemakers are the friendliest, most welcoming, "down to earth," laid-back bunch you'll ever meet. Chateau Montelena is the "Queen" of the Calistoga AVA, being the best known winery, and having a global reputation for producing great Chardonnay and awesome Cabernet Sauvignon.  Calistoga AVA includes many small family run wineries that love their grapes and really put their heart into making superb wines. Many do not have wineries so their grapes are custom crashed at nearby facilities (wineries). The warmth, friendliness and general kind heartedness of these family vineyard owners and winemakers is remarkable.
There are at least two rock star winemakers making wines in the Calistoga AVA. One is the iconic Heidi Barrett, whose list of accomplishments includes Screaming Eagle, Dalla Valle's Maya, Paradigm Winery, and Grace Family. The other, is highly regarded Thomas Rivers Brown who consults for many Napa Valley wineries including Schrader, Maybach and Harris Estate.
The following are some of the more memorable wines I tasted at the Fourth Annual Calistoga Food & Wine Grand Tasting: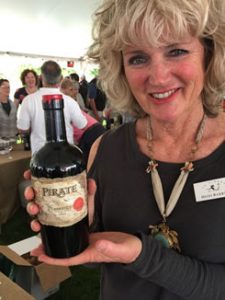 Iconic Napa Valley Winemaker Heidi Barrett with "Pirate" (Photo by Al Pandell)
2013 Pirate TreasuRed, Heidi Barrett's proprietary blend of 7 varietals (Syrah, Cabernet Sauvignon, Merlot, Grenache, Petite Verdot, Cab Franc & Petit Sirah.) Sounds like a mess, but it tastes delicious. The wine possesses richness, structure, multi-layered flavors and a long charming finish.  The wine is aged in 100% French oak barrels, 40% new, for 22 months. And you can drink now or hold it for a few years. Heidi also makes a collection of high-end wines under the La Sirena label. Heidi's comments: "Pirate TreasuRed returns for its 7th swashbuckling vintage, 2013. There's no reason you can't have a bit of fun with high quality wine and, trust me, we do! I make wine from a number of different varieties each year to be able to have more blending options. (It's a bit like adding more colors to your palette if you are an artist.) The first year I worked on this wine (2007) the result was not what I expected, but something even better. The blend I came up with was so delicious that an entirely new wine was born. Because the original blend used seven varietals, the 'treasure of the seven seas' idea was a natural and so was the Pirate name. Each year the blend changes slightly, but the 2013 once again has seven varietals; Cabernet Sauvignon, Syrah, Grenache, Merlot, Petit Verdot, Cabernet Franc, and Petite Sirah.  As you can imagine, it's a pretty big, black, raucous blend, completely mouth filling and bold, yet made with finesse."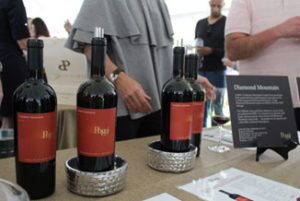 Poggi wines  (Photo by Anne Ward Ernst)
2014 Poggi Diamond Mountain Cabernet Sauvignon. Poggi's second wine is produced from fruit sourced from Diamond Mountain, which is located between St. Helena and Calistoga in the northern most part of the Mayacamas Mountain Range that forms the western rim of the Napa Valley. This wine is 100% Cabernet Sauvignon and possesses loads of intense blackberry, blueberry and cassis fruit flavors with earthy accents and a hint of spice. Aged in 50% new French oak barrels, it exhibits richness with an integrated medium tannic backbone. Delicious now with 15+ years of aging potential.
2014 Poggi Twin Palms Vineyard Cabernet Sauvigon. Poggi's flagship wine is sourced from their vineyard located in the Calistoga AVA. The Twin Palms vineyard is bordered by the world famous Cabernet producing Eisele vineyard. Situated on the valley floor, the vineyard is protected by the Palisades Mountain range to the north and benefits from well-drained alluvial soils, a single climatic region characterized by hot days and cool nights, and ample heat days supporting prolonged hang time for optimal maturation. The blend is 85.5% Cabernet Sauvignon with the remainder consisting of about equal parts Petit Verdot, Cabernet Franc and Merlot. Aging is in 50% new French Oak for 22 months. The grapes were harvested on September 18, 2014, and the winemaker is Ignacio Blancas. This estate beauty is a big, juicy Cab possessing multi-layered flavors and complexity. The delicious finish is long and smooth. With proper cellaring, this wine can age gracefully for 20 years or more.
2014 Jax Vineyards, Block 3, Cabernet Sauvignon, Calistoga. This blockbuster wine is 100%  Calistoga AVA wine sourced from the top 4 rows of the Jax estate vineyard in Calistoga. This wine is big, rich, and well-balanced with an integrated tannic structure and a long, delicious finish. The wine is made by Kirk Venge at his winery, Venge Vineyards in Calistoga and is aged for 21 months in new French oak.  This is only the second vintage of the Block 3 and only 588 bottles were produced, which are sold direct to consumers.  A hand designed pewter label is hand fastened to each bottle.
Sebright Cellars  (Photo by Anne Ward Ernst)
2014 Sebright Cellars, Greenwood Block, Cabernet Sauvignon, Napa Valley. From the Calistoga AVA, this 100% Cab is rich and structured but not overwhelming. It has excellent potential for further development. Aged 22 months in 100% new French oak, there are only 100 cases.
Hertiage School Vineyards (formerly Harris Estate Vineyards)
The name change occurred with the 2014 vintage under the new ownership of the Jenkins' family, David & Linda, and their four daughters, Hannah, Casey, Julie & Missiaen. All prior vintages are Harris Estate Vineyards. The Estate, which is located in the hillsides northwest of downtown Calistoga, consists of three vineyards from which 3 estate vineyard designated 100% Cabernet Sauvignon wines are produced: 2014 Missiaen's Hillside, 2014 Casey's Lakeview, and 2014 Julie's Creekside. The fourth daughter's wine is represented by 2014 Hannah Indulgence made with grapes sourced in the Calistoga AVA. The talented Thomas Rivers Brown is the winemaker and all the wines experience about 20 months in 80-85% new French oak barrels. A total of about 1000 cases are produced, split approximately equally between the 4 wines.
Thomas Rivers Brown's notes on the 2013 Indulgence: "The goal for the Indulgence bottling is to make a wine that comes from outside the estate, yet still embodies all the qualities of a classic Calistoga AVA wine. For 2013, the grapes were sourced from one of Napa Valley's most historic and lauded properties, located on the valley floor.  Consisting of 100% Cabernet Sauvignon fruit, this wine is produced for an accessible drinking experience that doesn't sacrifice quality and nuance in lieu of enjoyment."
The outstanding 2014 Cab I tasted at the Calistoga AVA event at Solage, was apparently a blend of the 3 estate vineyards. It was big and rich, with excellent structure and balance, and a long, delicious finish. I look forward to tasting the individual vineyard-designated wines.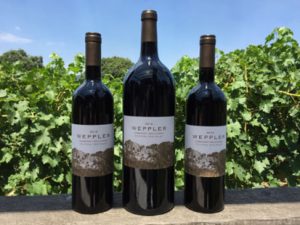 2013 Weppler Vineyards Cabernet Sauvignon. This Cab represents a good effort for the second vintage from this producer with vineyards located in Calistoga AVA and custom crushed in Healdsburg. This promising producer appears to be headed in the right direction in making high quality Calistoga Cabernet. Weppler Vineyards first vintage was 2012 with the production of 50 cases of Cabernet Sauvignon. The family is from Indianapolis, but maintains a home on its Calistoga property. With the purchase of an additional two acres of Cabernet vines, production increased to 500 cases in 2013 and 2014. To foster a softer tannic structure, the fermenting mixture is drained and the skins pressed just before the fermentation is complete allowing the remainder of the fermentation to occur without the skins.  The wine spends 18–20 months in a combination of new and used French oak barrels.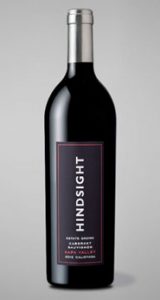 2013 Hindsight Estate Cabernet Sauvignon, Calistoga, Napa Valley. Hindsight Wines is a partnership of four people whose goal is "to build a business of a high-quality provider of exceptional wines at a reasonable price." The 2013 Estate Cab represents an excellent value among Calistoga AVA Cabernet Sauvignon. Veteran winemaker Jac Cole custom crushes the wine at Joseph Cellars just south of Calistoga. I look forward to following these wines into the future.
Winemaker Meg Heitz holds her 2014 Cab (Photo by Al Pandell)
2014 Shypoke Estate Cabernet Sauvignon, Calistoga, Napa Valley. Located in the northern end of the Napa Valley, Shypoke produces hand-crafted wines from sustainably farmed vineyards on a century old family ranch. The 2014 possesses excellent fruit concentration within a balanced framework of soft tannins. Nine barrels were produced.

2013 Checkmate by Summers
2013 Summers Estate, Checkmate Cabernet Sauvignon, is produced from the finest vineyard lots by owners Jim & Beth Summers and winemaker Ignacio Blancas. A blend of 88% Cabernet Sauvignon, 4% Merlot, 4% Petit Verdot and 4% Cabernet Franc, aged 22 months in 100% new French oak, this wine possesses richness and multi-layered  complexity with a long delightful finish. Summers also produces an Estate Cabernet Sauvignon, Charbono, Chardonnay, Merlot, Zinfandel, Petite Sirah, Malbec, Cabernet Franc, and a delicious Muscat Canelli late harvest dessert wine.